sprite_on_bezier.png
Little animation, by which you can dynamically define the points of the bezier curve used as path for the sprite.
Moviecast
.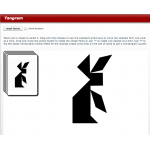 flex_tangram.png

flex_tilegame.png
Mini-game whereby the user has to navigate in the room and try and collect all items from a given category. October 2007.
Demo
and
Source Code

flex_comic_creator.jpg
Flex app to write a comic strip using provided characters and backgrounds. This was one of the first flex app I wrote. August 2007.
Demo

xtalk_kytoto_geometry.jpg
Legobrick construction game. Complex shapes can be built using a set of simple shapes that come in 3 colors, 3 sizes and 4 orientations. September 2006.

xtalk_dominos.jpg
The task is to position the dominos such that the image on the left is a correct depiction of the text on the previous domino.